celebrity tv- The source for entertainment news, celebrity gossip and pictures. fashion trends, TV,
music and movie reviews, online video and
Chelsea Clinton's a Married Woman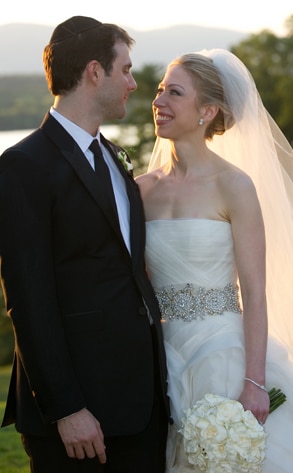 Chelsea Clinton's inauguration to married life went off without a hitch.
No one forgot the words as Bill and Hillary Clinton's only daughter swapped vows with investment banker Marc Mezvinsky on Saturday in front of nearly 400 guests in what was, contrary to how it sounds, an extremely private ceremony.
"Today, we watched with great pride and overwhelming emotion as Chelsea and Marc wed in a beautiful ceremony at Astor Courts, surrounded by family and their close friends," the Clintons said in a statement.
But though the big-budget affair was cloaked in secrecy, you can't keep the recap of a good wedding down.
The knot-tying took place in an air-conditioned tent on the grounds of the historic riverfront estate in the quiet, artsy town of Rhinebeck, N.Y.
Chelsea Clinton, 30, wore a Vera Wang gown, while her parents donned designer duds by Oscar De La Renta.
Two helipads were installed on the grounds to accommodate helicopter arrivals, though the Federal Aviation Administration designated Rhinebeck a no-fly zone during the nuptials and throughout the night to shield the family and guests from airborne paparazzi. (It's good to be the former president and current secretary of state.)
As expected, President Barack Obama was not there to lend political cachet to the nuptials. But, as it turns out, he wasn't even invited.
The commander in chief, ever the diplomat, told the ladies of The View that he didn't get an invite "because I think Hillary and Bill, properly, want to keep this thing for Chelsea and her soon-to-be husband."
Indeed, word was that only those with a personal connection to either the bride or groom, and not just to their prominent parents, made the cut.
Ted Danson and Mary Steenburgen, who were among those in attendance, told CNN the wedding was "a very personal experience" for the newlyweds, in spite of the media mayhem that surrounded the event.
A rehearsal dinner was held last night in a barn (albeit an elegantly decked-out barn) on the nearby Grasmere estate.